Anti-Aging Guru Gives 6 Secrets To Staying Vital
Details

Created:

October 27, 2010

by: admin
Henry S. Lodge M.D. has a lot of advice in "Younger Next Year for Women" (Workman Publishing). Here are a few to get you started…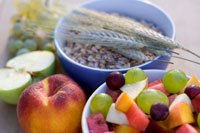 Henry S. Lodge M.D. has a lot of advice in "Younger Next Year for Women" (Workman Publishing). Here are a few to get you started…
At least 2.5 hours of exercise per week.
Ideal Body Mass Index: Under 2.5
Waist not, want not. Less than 35 inches will cut your mortality risk by 23%
Total cholesterol level should max out at 200 mg/dl
Fiber, fiber, fiber…25 grams a day helps keep the risk of coronary death away.
Sleep 7-8 hours. Less than that disrupts hunger regulating hormones that cause weight gain.
Anti-Aging Guru Gives 6 Secrets To Staying Vital