Overlooked Red Flags (for the C-Word).
Details

Created:

February 13, 2011

by: admin
Women tend to be more vigilant than men for signs of cancer. Still, there are a number of 'not-normals' we tend to gloss over.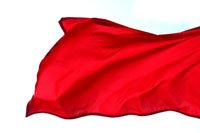 Women tend to be more vigilant than men for signs of cancer. We see doctors more often, examine our breasts, and are hyper-aware of changes to our skin. Still, there are a number of 'not-normals' we tend to gloss over. Obviously, the list below isn't about creating an environment of fear or encouraging anyone to overreact. It's about Knowledge As The Best Defense. In that spirit, here are a few of the most commonly overlooked signals that something isn't right…which are often overlooked because they are also incredibly common symptoms in our stressed-out, immune-compromised, crazy world.
Bloating. A condition so common with us, we mostly overlook it. But it could be an indication of ovarian cancer. If the bloating is paired with pelvic pain and urinary problems, you should definitely consult a doctor. A CT scan and blood test are the first line of defense.
Unexplained weight loss. Obviously, most women would see this as a bonus. But if you lose weight suddenly, say 10 pounds in a month, without decreasing your food or an uptake in exercise, look into it. Many times, unexplained weight loss is related to thyroid, but either way it should be checked out.
Mouth changes. White patches or white spots in the mouth or on the tongue could point to a pre cancerous condition called leukoplakia, which is often the first sign of oral cancer. If you notice something and it's persistent, ask your dentist or doctor to take a closer look.
Gnawing abdominal pain. And we're not talking about the occasional heavy meal. If you have constant pain in your stomach, you need to talk to someone about it. Yes, it could be stress. Yes, it could be a food allergy. But it could also be your body telling you something in your digestive system isn't functioning as it should.
Pain in the armpit or neck. More specifically, pain in your lymph nodes. If you have a distended lymph node and it's been that way longer than a month, see a doctor. While it could be a simple infection, the lymph nodes are barometers for big changes in your body. Ignoring a sudden sensitivity in this area is ignoring a very clear message your body is sending.
Bleeding when you shouldn't (or where you shouldn't). Periodic bleeding is our norm. At the same time, departures from the regular schedule should be noted. If you are typically regular, if you are menopausal, if the blood is much heavier than what is ordinarily experienced, don't ignore a departure from the usual. Three quarters of all women with endometrial cancer will get abnormal bleeding as an early sign. And blood in your GI track could be a symptom of colorectal cancer. If you have blood and it strikes you as odd, don't distrust your instincts. Get a doctor on the case.