An Extra Hour of Rest
Details

Created:

November 4, 2010

by: admin
Daylight savings means different things to different people. Whatever your position, don't forget to turn back the clocks this Sunday.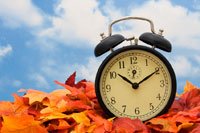 This Sunday, November 7th, we'll be moving out of daylight savings time and setting our clocks back 1 hour. For many, this means different things. For most, it is a welcome extra hour of much needed rest. For some parents it means earlier bed times for our kids, but for others it means less outside play time. If you are a TV network, it means higher ratings. NPR reported that TV stations enjoy a rating hike in the Fall because of the time change. Evidently, people spend more time in front of the TV than enjoying the evenings outside.
Whatever your position on Daylight Savings, the reality is, that unless you live in Arizona, Hawaii or outside the continental US, you have to set your clocks back.