Diabetes Alert: Five Warning Signs That Might Spell Trouble
Details

Created:

November 8, 2010

by: admin
One in three people with type 2 diabetes don't even know they have a problem. Knowing what to look for can make all the difference.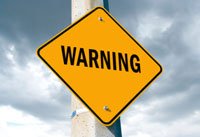 One in three people with type 2 diabetes don't even know they have a problem. Diabetes is a chronic condition that impedes the body's ability to change sugar into energy. As sugar levels in the blood build up, there is an increased risk of heart disease, vision loss and other serious health complications. If you, or someone you know, is experiencing the symptoms below, we urge you to seek medical attention and screening for the condition. The coming high-sugar season is prime time for borderline conditions to flare up into real trouble. Knowing what to look for can alert you to investigate and get the needed help.
Constant Thirst. If you are experiencing extreme thirst, a sensation of constantly needing to hydrate or persistent 'dry mouth' your body could be signaling 'diabetes'. If this is a condition you experience for more than a week, it's a good idea to run a blood glucose level test with your doctor.
Headaches. Abnormal blood sugar levels often show up in the form of headaches, blurred vision and fatigue.
Noticeable Increase in Infections. When cuts or sores are very slow to heal, if you are experiencing constant yeast or urinary tract infections, or if you notice unusually itchy skin, especially in the groin area, it's time to get yourself checked out for diabetes.
Frequent Urination. If you experience changes in your normal pee pattern, or what seems like an unusual number of trips to the bathroom (and you're not pregnant) you might want to consider the possibility that diabetes is the culprit. Again, it's better to consult a physician than ignore what could be the first signs of a diabetic condition.
Erectile dysfunction. While there are many and varied causes for this condition, it is one of the markers for type 2 diabetes in men. A prolonged bout of this condition should be investigated.
Diabetes Alert: Five Warning Signs That Might Spell Trouble