Surviving the Season of Big Eats
Details

Created:

November 20, 2010

by: admin
Tips on how to enjoy the foods around the holiday while still keeping the caloric onslaughts under control.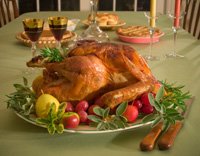 It's that time again. Winter feasting has arrived with all its family gatherings, holiday parties, cold – weather comfort food and a host of other enticements aimed directly at your waistline. It's definitely time to formulate a survival plan. While the temptations are endless, a little savvy during the coming months can help keep dietary downfalls to a minimum (Not to mention the weight gains and health issues that go with them). Let's start with the obvious (and toughest) part of the equation. Exercise. Holiday schedules and less than lovely weather put a lot of us into a hunker-down mode. Resist with all your might. Add a few hours to your exercise program. If you don't have one, consider jump starting a New Year's resolution by taking time at least 2 days a week to do some form of cardio-based activity. If you can't face a little sweat, at least promise yourself you'll walk more and sit less.
To tackle the 'all food, all the time' months ahead, try a few simple things that let you enjoy, but keep caloric onslaughts under control.
Smaller portions. Take appetizer-sized, rather than full-sized portions of your holiday favorites. Sample everything…don't 'entrée' anything.
Eat a little, before you feast. It may sound counter-intuitive, but heading into a big meal famished is the ultimate setup for overdoing it.
Drink 2 glasses of water before starting a meal. Crazy as it sounds, if you take in two 8 ounce glasses of water before you start eating, you will not only help cut down the amount you eat, you'll also lessen the strain on your digestive system.
Just say no (thank you). The fact that someone cooked/brought/bought it doesn't oblige you to consume it. Yes, families can make this very difficult….caring is often equated with feeding. But the courteous demur will not only help keep your waist in line, it can inspire respect and even emulation in others.
Keep in mind that celebrations are about family and friends…not food. Sharing time with the people you care about is the primary reason of the season. Food is a factor. Not the focus.
Surviving the Season of Big Eats