Dealing With Hair Loss
Details

Created:

April 9, 2013

by: admin
Are those locks fried and frizzy? Dry and damaged? Here's how to take care of your mane. Click inside to learn more.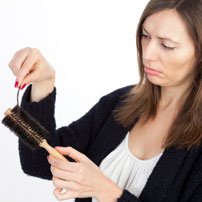 For most women, hair is more than just a bundle of fiber. It's an expression of style and personality. Everyone loses hair. It happens during your morning shower, while you're drying it, or even when you give it a quick brush—and that's normal. Studies show that losing an average of fifty to one hundred strands per day is normal and is simply the cycle that healthy hair endures. But hair loss may be a sign of a more serious medical condition that may need to be evaluated by a dermatologist to provide possible treatment.
There are many causes of hair loss—one being genetics. Hair loss caused by genetics is known as androgenetic alopecia and, according to the American Academy of Dermatology, is the most common cause of hair loss. This gene can be inherited from either side of the family, though you're more likely to have it if both parents experienced hair loss.
The symptoms: Women with this trait tend to develop thinning at the hairline behind the bangs. The condition develops slowly and may start as early as your 20s. You may be vulnerable if your mother also has this pattern of thinning. In some cases, hair loss may spread across the entire scalp.
The tests: Your dermatologist will examine the pattern of hair loss to determine if it's hereditary and may order blood work to rule out other causes. A biopsy of your scalp is sometimes done to see if the hair follicles have been replaced with miniaturized follicles, a foolproof sign of hereditary hair loss.
What you can do: Slow the hair loss by applying minoxidil (Rogaine) to the scalp twice a day. The drug works on both women and men, although women should use a lower-strength formula to prevent unnecessary side effects. Women should not use minoxidil if pregnant or nursing. Men may be treated with finasteride (Propecia), an oral medication.
Have a comment or question about this post? Scroll down to post a comment to this blog or Click here to ask your question.