Kids, Greed and the Holidays.
Details

Created:

November 4, 2013

by: admin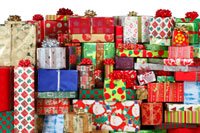 As much as we love our children and want to give them their hearts' desire, holiday gift giving brings a few issues to the forefront worth thinking about. No child should get everything they want. Who truly desires that their kid become greedy in life, fail to appreciate the good things they already have, or assume that material objects are of prime importance? This kind of parenting isn't about withholding pleasure, it's about teaching positive values. Holidays tend to swamp kids with signals to exercise greed. You can help balance that impulse and the negative influences it has on children.
Try to only buy the things that are most realistic. You don't want to give too much they really don't need. Yes, to a child, every toy seems like a need, (and consumer advertising is very skillful at setting up that equation) but what is the true 'I really, really want' versus 'I want it all.' One way of helping determine this is to actually go over their gift list with them and ask for each entry, 'Why do you need this?' Their answers will usually give you some very clear insight into which items are true desires and which are based on 'free stuff I can get this time of year.'
Ground your gift-giving in how they've actually been behaving. Of course this doesn't mean they shouldn't get presents (which would crush any kid). But try to employ the 'naughty or nice' principal in a way that clearly shows a child that bad behavior isn't rewarded…even during Christmas or Hannukah.
Talk to kids about less fortunate children. Holidays aren't just about getting, they're about giving. Encourage them to share by having them to choose a few things from their own list to be given to some other child in need. Don't just talk about this, actually take your child shopping, have them select a few items for donation to a local shelter or charity and make sure they are part of the donation process. Kids are naturally self-interested. It's up to you to help them see a bigger picture that involves thinking about other people's wants and needs.
If old enough, give your child some control in the process. Make up (or better still, have your child make up) a Christmas list for you. Then carefully explain why some of 'your' presents are good, but others are unnecessary. The simple process of putting someone else's gift list into perspective can actually help a child get a better handle on their own wants and needs.
Prepare your child for disappointment. If may sound Scrooge-y, but we all, (even adults), want things we can't have…and have to deal with that frustration. While most children won't grasp concepts like 'the economy' or 'budgeting disposable income', they can be exposed to the idea that life (and/or Santa) doesn't automatically provide for all desires. Limits are a reality. Even in this magical season, it's important to soften expectations with some loving words about what is possible…and what isn't.