No Taxation Without Relaxation: De-stressing after Tax Season
Details

Created:

June 1, 2012

by: admin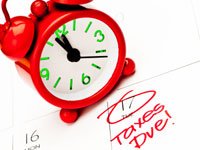 It's tax season and you've finally filed your taxes (hopefully). For many, this means dealing with super high stress levels. Here are some ways that you can relax and possibly spend some of your tax returns on some good ol' R&R:
Relax your mind and your body. Whether it be taking yoga lessons, a 20 minute walk in the evening or blaring loud music for a few minutes, it's important to find an activity that puts your mind at ease, even if only momentarily.
Take a trip. Whether it be going away to a faraway island or checking in to a hotel at a nearby city, stepping away from the confines of where you live can take you away from the stresses of daily life and allow you to shed some of that built-up tax stress instantly.
Connect with positive people. Connecting with positive people can realign or help to maintain an upbeat outlook on everyday things like the weather and traffic. So after such a "taxing" time like Tax Day has passed, go ahead and do yourself a favor by meeting up with some of those positive people in your life.
Do Nothing. It's sort of scary for many, but it's proven to be necessary for all, especially after you've filed those taxes. Doing nothing is not wasting time, instead it's filling your time with some much needed winding down that your body needs sometimes to level out your stress levels. Start doing nothing by simply turning off all of your tech gadgets (and, yes, the world will be fine without you for a fraction of time) and relaxing under a cozy blanket or taking a long luxurious bubble bath or even tasting all of the wines or teas in your home. You'd be amazed how regenerated you can feel after following some of these simple suggestions.
Enjoy the Perks. Some of your favorite restaurants and companies are offering some great discounts in the name of celebrating the end to Tax Day 2012. So feel free to explore some of these freebies in celebration of filing those taxes!
No Taxation Without Relaxation: De-stressing after Tax Season