A major difference between fibroid embolization and traditional fibroid surgeries (like myomectomy) is that embolization ensures fibroids can never grow back. Fibroids removed surgically often leave enough fibroid cells and fibroid tissue to eventually regenerate. 50% of the time, women who have myomectomies discover their fibroids are back in less than a year.
Fibroid embolization stops the blood supply carrying oxygen and nutrients to the fibroid, without a blood supply, fibroids can't live, grow or reoccur.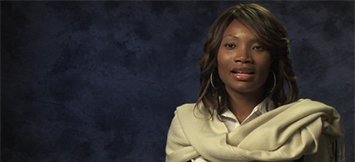 "It was very painful.  So I could not enjoy myself.  And he wasn't enjoying himself with me." Fibroids made intimacy unpleasant.  They also kept Ingrid weak, anxious and dangerously anemic.  One quick, non-surgical treatment turned her life around.