Tips to Help Reduce Uterine Fibroid Pain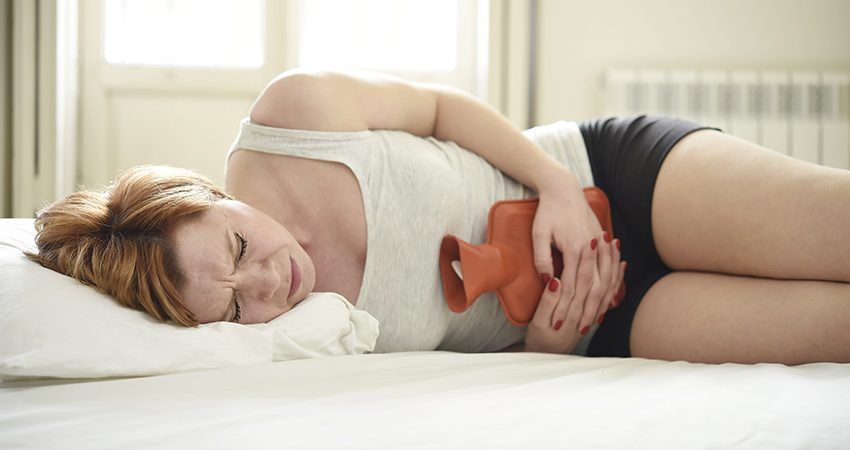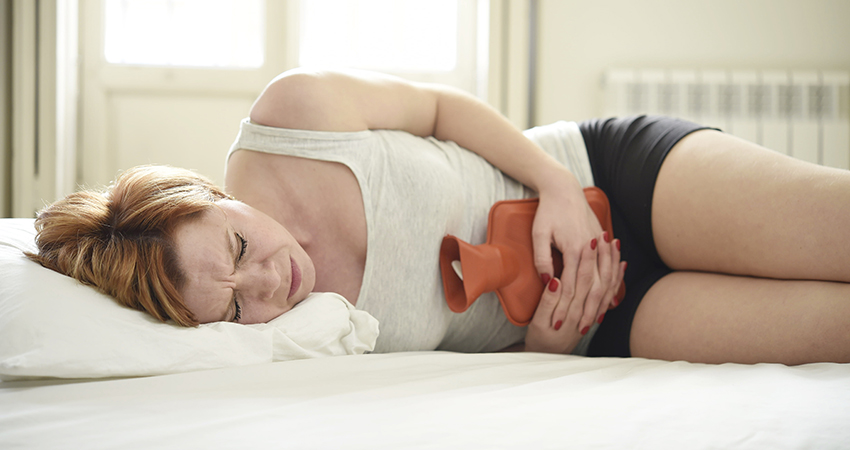 As any woman who has ever suffered from uterine fibroids can tell you, they can be extremely painful. In addition to symptoms like the need to urinate frequently, constipation, heavy menstrual bleeding, or prolonged menstrual periods, fibroids often cause pelvic pressure or pain, backaches, and leg pains. Sometimes this fibroid pain can become acute.
Why are Uterine Fibroids Painful?
Uterine fibroids are benign (non-cancerous) tumors that develop on the walls or lining of the uterus, most often in women aged 40 – 50. Whether a fibroid is painful, and the severity of pain will depend on its location, size, and number of fibroids present. Fibroids can be painful for many reasons:
Sometimes fibroids become painful because they have outgrown their blood supply and begin to die. As the fibroid degenerates, its byproducts can cause abdominal pain.
Still other fibroids are painful because they are hanging by a stalk either inside or outside the uterus. These stalks can twist, cutting off the fibroids' blood supply.
When fibroids are outside the uterus, they may press on your bladder, rectum or spinal nerves, causing abdominal pressure and backaches.
Fibroids inside your uterine walls can cause the shape of your uterus to become distorted, resulting in both pressure and pain.
Tips for Uterine Fibroid Pain Relief
For some women, uterine fibroids cause only mild symptoms and because fibroids may shrink after menopause, some women are able to manage symptoms on their own without further treatment.
Some options for relieving fibroid pain include:
Non-steroidal anti-inflammatory drugs (NSAIDs) such as ibuprofen may provide pain relief.
Some women find relief by undergoing hormone therapy after consultation with a doctor specializing in uterine fibroids. This may include birth control pills or injections or other short-term drugs that trick your body into thinking menopause has started.
For some women, using a heating pad or undergoing acupuncture treatments provides some relief.
When You are Sick of Living with Uterine Fibroid Pain
Managing the symptoms of your fibroids may work for a time, but for many women, such short-term approaches are not realistic long-term solutions. When it's time to deal with the fibroid pain once and for all, you have several fibroid treatment options, including:
Non-surgical Fibroid Embolization
Embolization is a popular non-surgical option for dealing with all types of fibroids, whether they are located inside or outside of the uterus. Essentially, embolization deals with uterine fibroids by shutting down their oxygen supply so they shrink.
After the procedure, fibroids begin to shrink immediately and any heavy bleeding is stopped soon after. Embolization also keeps new fibroids from forming after the procedure, which is a major benefit. Embolization is also a popular choice among women who wish to conceive in the future, as the procedure does not affect fertility.
The overall success rate of fibroid embolization is 94%. In fact, the Fibroid Treatment Collective actually performed the very first non-surgical fibroid embolization in the United States in 1994 and has treated thousands of women with embolization since then.
For more information about uterine fibroid embolization, see the Frequently Asked Questions page on the Fibroid Treatment Collective website, or call (866) 479-1523 for a consultation.
Hysterectomy
When you undergo a hysterectomy, your uterus is removed from your body. In a total hysterectomy, the entire uterine system is removed. Sometimes, a patient and her doctor may choose to remove the uterus but leave the cervix in place, which is known as a sub-total hysterectomy.
Although hysterectomies are used to treat many conditions, uterine fibroids are the most common reason for the surgery, accounting for up to half of all hysterectomies.
A hysterectomy will permanently remove uterine fibroids because the uterus itself has been removed.
Women who have hysterectomies can no longer bear children.
Most hysterectomies are performed as abdominal surgeries, although some may be handled vaginally. Regardless of how the surgery is performed, a hysterectomy is a major surgical operation requiring a lengthy recovery time, so it is important to fully understand the potential risks and benefits before deciding to go this route.
Myomectomy
A myomectomy is also a surgical procedure designed to remove fibroids from the uterus. This type of procedure may be done abdominally, laproscopically, or hysteroscopically (vaginally.)
Unlike a hysterectomy, in which the uterus is removed, a myomectomy only removes the fibroid tumors themselves. This is good news for women who want to be able to conceive after the removal of their uterine fibroids, however there are some side effects to this type of procedure that may make it a less attractive option for women in their child-bearing years.
Although the uterus itself is not removed, a myomectomy procedure can cause uterine scarring that can affect fertility. Women may also experience problems with loss of blood, especially when large fibroids are removed.
Uterine fibroids can re-develop after a myomectomy, with a regrowth potential of 30% or more, depending on a woman's age.
Conclusion
Not everyone is a candidate for embolization, hysterectomy or myomectomy, and just as with any medical procedure, there are potential side effects with each of these options. Discuss your symptoms and the pros and cons of each possible treatment option with your doctor before making a decision on fibroid treatment.
To find out if a non-surgical fibroid embolization, a hysterectomy or a myomectomy is right for you, contact us today online, or call the Fibroid Treatment Collective at (866) 479-1523.

pain
painful
relief
symptoms
treat