Myomectomy failed. Embolization didn't.
"Over fifteen years ago I had the traditional myomectomy surgery. My fibroids returned worse than ever resulting in extremely heavy periods, painful intercourse, and distended uterus. After much research, I decided on Dr. McLucas' uterine embolization procedure. What a breeze! The procedure was over before I knew it; all I had was a tiny incision in the groin and some cramping (no worse than a bad period). I was up and around and eating a full Thanksgiving dinner by the second day! No more heavy periods, a normal uterus and sex is pain free. I couldn't be happier with the results!"
— Cristy S.
Success Story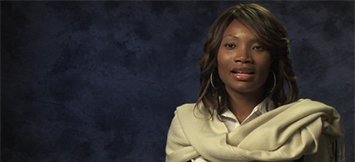 ""It was very painful.  So I could not enjoy myself.  And he wasn't enjoying himself with me." Fibroids made intimacy unpleasant.  They also kept Ingrid weak, anxious and dangerously anemic.  One quick, non-surgical treatment turned her life around."